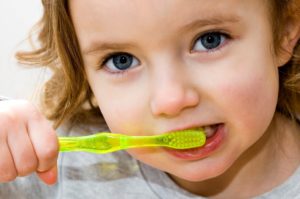 Your child's primary teeth are only in place for a few short years before they are replaced by their permanent ones. Until they fall out, they play an important role in their oral health and development, so it's important their teeth stay strong and healthy. Did you know you can help support your child's dental health long before their first tooth erupts? Your pediatric dentist in Northampton has the tips you need to care for your child's teeth for a beautiful smile.
When Should I Start Brushing My Child's Teeth?
A lifelong commitment to oral hygiene begins at a young age. It's best to start your child on a regular oral hygiene routine early. While they are an infant, use a wet cloth to clean their gums after each feeding. As soon as their first tooth breaks through the gum tissue, it's time to use a toothbrush. In addition, it's best to keep in mind:
Use a soft-bristled toothbrush that accommodates the size of their mouth.
Use an ADA-approved fluoride toothpaste.
Brush their teeth at least twice a day using a pea-sized amount of toothpaste.
Clean all surfaces of their teeth.
Around the age of 2-5, your child can begin brushing their own teeth under your supervision.
Between 6-8 years of age, they should be able to brush their own teeth; however, you may want to consider a battery-powered toothbrush to ensure their oral hygiene routine is effective.
Your child's toothbrush should be replaced every 2-3 months, or whenever it is worn, whichever comes first.
What is the Best Way to Brush?
Hold the toothbrush at a 45-degree angle to the gum line. Use gentle back-and-forth motions to clean their teeth. Don't forget to brush behind their teeth as well. Clean their tongue to remove any lingering bacteria or food particles.
When Should My Child Start Flossing?
Around 6 years of age, your child's teeth will move closer together. Now is the time to begin nightly flossing. Choose a high-quality dental floss that has earned the ADA's Seal of Acceptance. Use about 18 inches of floss to clean in between each tooth. As your child ages and develops the correct flossing techniques, they can clean between their teeth and around their gum line on their own. They may find dental flossers easier to use than traditional floss.
Benefits of Early Dental Care
Besides brushing and flossing, your child should also begin seeing their dentist around their first birthday. Routine dental care teaches them the necessity of oral hygiene while also allowing their dentist to monitor their developing smile to detect concerning areas sooner. With the right care at home and from their dentist, your child can have the healthy, beautiful smile they deserve.
About Northampton Pediatric Dentistry
Northampton Pediatric Dentistry strives to provide the compassionate care young smiles need to thrive. Our team of dentists are specially trained to support the unique needs of children. If it's time for your child's first visit, contact our office today to schedule their appointment.