Children's Root Canals Saving Smiles
Some people say that it's perfectly fine for children to lose their primary ("baby") teeth before they fall out naturally. Here at Northampton Pediatric Dentistry, we don't agree in the least. The loss of baby teeth at an early stage can result in serious problems regarding the eruption of permanent teeth, which is why we recommend that they stay in place until the right time comes.
Why would my child need root canal therapy?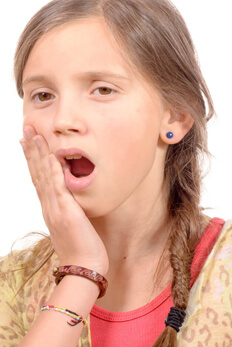 Is your child experiencing constant pain in a certain tooth? Do changes in temperature cause overblown sensitivity? Is the tooth severely damaged to the point that the pulp is exposed? These are all signs that a pulpectomy is very much needed.
The Treatment Process
Performing a pulpectomy on a young child has some key differences when compared to a traditional root canal procedure for an adult. During this treatment, only the infected chamber that contains the pulp of the tooth is removed, and in most cases, special instruments aren't even needed. This results in a much quicker and more comfortable experience for your son or daughter. After we've successfully treated the tooth, we'll place a tiny, custom crown on top to protect the weakened tooth and give back its strength.
What will happen after the tooth is restored?
The crown we provide for the treated tooth is completely biocompatible, and in time, it will fall off just like a natural baby tooth. Following the initial procedure, though, your child may experience some minimal discomfort and sensitivity for the first few weeks. It is very important that they (or the parent) continue to brush their teeth and gums to minimize the chance of further infection. If the pain they're experiencing is excessive, please contact us right away to schedule an appointment at either our Amherst, Northampton or Greenfield, MA location.
---
Explore More Services
Preventive DentistryCheck-Ups & Cleanings Digital X-Rays Tooth-Colored Fillings Pediatric Dentistry Sedation Dentistry Emergency Dentistry See All Our Services