Preventive Dentistry for Northampton, Amherst & Greenfield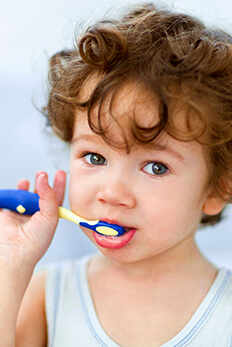 When it comes to maintaining great oral health and happiness, prevention is very important, and even more so for children with smiles that haven't reached their full potential just yet. Here at Northampton Pediatric Dentistry, our team is happy to offer a wide variety of pediatric dental services that are designed to keep potential issues as minimal as possible. You can feel comfortable knowing that your child is in the hands of trusted specialists like Dr. Tremblay, Dr. Yang, and Dr. Sheraz, and we have plenty of experience creating a fun, comfortable atmosphere every time your family visits. Contact us today in either Northampton, Amherst or Greenfield, MA to schedule an appointment!
Check-ups & Cleanings
We recommend that children are brought in for their first dental appointment by the age of one. They should then attend subsequent check-ups and cleanings every six months.
Pediatric Dentistry
As specialists, we have the training and experience to provide your loved ones with truly amazing care. Several pediatric services are available here at our Northampton, Amherst and Greenfield locations!
Sedation Dentistry
Sadly, it's common for children to experience fear or anxiety when at the dentist. Thankfully, our sedation options can help them feel at ease as we improve their oral health and happiness.
Digital X-Rays
Digital X-rays are a vast improvement over the traditional techniques, allowing our team to capture detailed images of growing smiles in a much faster and safer way.
Emergency Care
Is your child experiencing severe oral-related pain or injury? Don't hesitate – contact Northampton Pediatric Dentistry at any time to receive the instructions and emergency care you need.
Oral Cancer Screenings
Oral cancer is a dangerous, even deadly condition that often isn't located until in its later stages. With routine screenings for older patients, our team works to provide a concrete diagnosis very early on. This way, treatment has a much higher rate of success. Our oral cancer exams include thoroughly searching the mouth for tell-tale signs that indicate cancerous cells, such as white or red spots, sores that bleed easily, and lumps or thickened areas in the soft tissue.
Mouthguards/Sportsguards
Sometimes smiles need a little extra protection, especially if they belong to a younger patient that's actively involved in sports. Here in Northampton, Amherst and Greenfield our team happily provides customized mouthguards and sportsguards. Mouthguards can be a big help for children who routinely grind their teeth, while sportsguards are strongly recommended for active athletes where contact with other kids or a hard surface is likely. Protective mouthguards and sportsguards ensure your child always smiles with complete confidence, now and in the future!
---
Explore More Services
Check-Ups & Cleanings Digital X-Rays Tooth-Colored Fillings Pediatric Dentistry Root Canal Therapy Sedation Dentistry Emergency Dentistry See All Our Services