Emergency Pediatric Dentist in Northampton, Amherst & Greenfield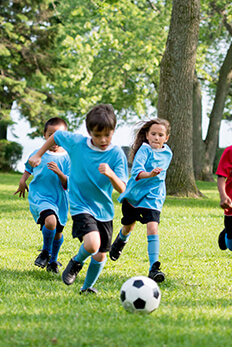 Dental emergencies can be terrifying, especially when they're happening to your child. Please don't hesitate – contact Northampton Pediatric Dentistry right away if you're in need of assistance. Dr. Tremblay, Dr. Yang, and Dr. Sheraz will do everything they can to see your case on the same day as your initial call so that much-needed relief can be provided. If an emergency occurs after our offices have closed or on the weekend, our answering machine can direct you to an on-call doctor who will provide assistance. What if you can't reach us right away? Our team will provide guidance for how to best manage your child's condition in the meantime.
Here are some tips for the most common dental emergencies we see:
Knocked Out Baby Tooth
Don't place the tooth back in the socket. Instead, take a piece of gauze and have your child hold it in place against any areas that are bleeding. Contact Northampton Pediatric Dentistry right away!
Knocked Out Permanent Tooth
Rinse the tooth very carefully under lukewarm water and don't scrub it. If your child can handle it, have them place the tooth back into its original socket and hold it with their tongue. If this can't be done, place the tooth in a cup of milk instead and contact us as soon as possible, no matter what time of day it is. Time is of the essence when it comes to reattaching a dislodged tooth.
Painful Toothache
Rinse your child's mouth with cold water and use dental floss around the pained area. This should dislodge any foreign items or food particles that could be causing the discomfort. If the pain persists, contact us. If their face swells, please go to an emergency room nearby.
Bitten Tongue or Lip
Take a clean cloth or dishrag and use it to apply pressure to the injury. A cold compress can reduce any swelling, as well. If bleeding is heavy and does not lessen after a short amount of time, please proceed to your nearest emergency room.
How can I prevent dental injuries?
Please don't let your child open difficult packaging with their teeth – provide them with scissors or open the item yourself. Limit their exposure to particularly hard or sticky foods, as these have a higher likelihood of causing injuries. If they participate in a sport or another activity that could involve physical contact, Dr. Tremblay, Dr. Yang, and Dr. Sheraz strongly recommend that they wear a customized sportsguard.
Trust your child's smile in the hands of dedicated pediatric specialists! Contact us today to schedule an emergency visit at either our Northampton, Amherst or Greenfield, MA pediatric dental office.
---
Explore More Services
Preventive DentistryCheck-Ups & Cleanings Digital X-Rays Tooth-Colored Fillings Pediatric Dentistry Root Canal Therapy Sedation Dentistry See All Our Services