Gentle Pediatric Dentist in Northampton, Amherst & Greenfield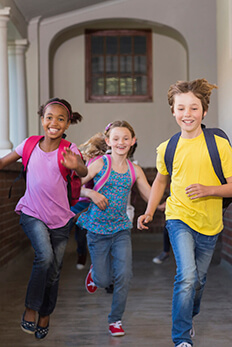 Your child deserves a truly exceptional approach, and that's just what you'll find at Northampton Pediatric Dentistry. Just like a pediatrician solely handles the medical issues of children, a pediatric dentistry specialist is focused on their dental needs, and additional years of education and training allow them to provide both skilled dental services and a warm, comfortable atmosphere where little ones can feel at ease. Dr. Tremblay, Dr. Yang and Dr. Sheraz hope to welcome you soon! Contact us today to schedule an appointment at either our Northampton, Amherst or Greenfield, MA location.
Digit Sucking
Digit sucking is a common habit among infants, and one that usually sticks with children until they reach the age of six. It's a harmless activity initially, but potentially serious oral health issues can begin to arise if young patients pass this age and continue the habit as their permanent teeth emerge. Parents can help to discourage them by providing motivation in the form of little rewards. If it continues, our team is available to provide you with more effective techniques.
Tooth Eruption
Your child will begin to receive their baby teeth when they're about six to eight months old, while permanent teeth typically make their first appearance at the ages of five or six. If your little one doesn't exactly follow this timetable, there's no need to worry – everyone's smiles have their own unique schedules. During their regular appointments here in Amherst, Northampton or Greenfield, our doctors can let you know if there's a problem that needs our professional attention.
Preventing Decay
Decay is a constant threat to oral health that patients of all ages need to be aware of. For children, an overabundance of sugary or juicy sweets can be a strong cause of decay, and babies who go to bed with bottles of breast milk or formula have a higher risk as well. During their regular check-ups, our gentle dental team will professionally clean your child's teeth and gums, as well as provide fluoride supplements as needed to fight dangerous bacteria.
Gum Disease
While many people may think that gum disease is an adult condition, children and teenagers can experience the first stage – known as gingivitis – earlier than you'd think. And, serious cases are not unheard of. We'll be sure to help reduce these risks with in-depth cleanings and diligent education about maintaining oral health.
Dental Sealants
In order to better prevent bacteria and food particles from sticking to enamel, Dr. Yang, Dr. Tremblay, and Dr. Sheraz can provide dental sealants. These pieces of tough plastic material are directly painted over chewing surfaces, effectively sealing the area and minimizing the threat of decay. With proper care and maintenance, your child's dental sealants can last up to 10 or 15 years!
Root Canal Therapy
If your son or daughter is experiencing severe tooth damage that's spread to the roots, Dr. Tremblay, Dr. Yang, and Dr. Sheraz can provide a special kind of root canal therapy (also known as a pulpectomy) as a transformative way to renew its health and structure.
Tooth-Colored Fillings
Fillings are the ideal treatment for a child's cavity, and our tooth-colored option will help them maintain their flourishing self-confidence as well.
Silver Diamine Fluoride
Is your child too afraid of having a traditional dental filling placed? At our office, there's another solution available that not only removes the filling process altogether, but actively stops the growth of tooth decay in your child's tooth. With silver diamine fluoride, a powerful alternative to traditional fillings and stronger than traditional fluoride, we can make your child's visit much more comfortable and save their natural tooth from decay, so they can keep smiling with ease!
Breaking the Pacifier Habit
When it comes to breaking your child's habit of using a pacifier, there are the best tips to keep in mind:
Have a clear and simple message: Simply telling your child that you are going to take away their pacifier tomorrow and that you're letting them know now is a good way to start the process. You don't need to give a reason, especially if you are weaning them off at an earlier age.
Stand firm as much as possible: When you take away a pacifier, do not give it back. Remaining consistent is crucial to making the process easier in the long run. However, if they end up switching to their thumb or finger, give the pacifier back because it's impossible to take away their thumb! Try again after a few months.
Stay calm: Keep your tone neutral and matter-of-fact. If they get upset, be empathetic. Don't take it away as a form of punishment. Instead, praise them when they make an effort to not need it.
Cut a hole in the pacifier: This makes the sucking function of the pacifier less effective.
Going cold turkey: This method is largely recommended for children between 12 and 16 months. Explain to your child what is happening and then take the pacifier away. If you'd like to wean them off instead, make sure they only have the pacifier when they are in the car or when it's time for bed.
---
Explore More Services
Preventive DentistryCheck-Ups & Cleanings Digital X-Rays Tooth-Colored Fillings Root Canal Therapy Sedation Dentistry Emergency Dentistry See All Our Services