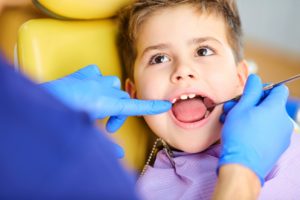 Besides their home oral hygiene routine, your child's oral health also relies on the care they receive from their pediatric dentist in Northampton over the years. Unfortunately, visiting the dentist is not an easy experience for everyone. Dental fears and phobias can make the dentist a scary place, especially for young children. As a parent, there are several things you can do to help your child conquer their anxiety for stress-free visits.
Overcoming Pediatric Dental Fears
Your child's fear of the dentist can stem from several factors, such as worrying about the unknown, pain, or the environment in general. As the parent, you play a significant role in your child's comfort level during their appointment. In fact, research shows a father's fear of the dentist impacts a child more than their mother's; however, women tend to have more apprehension about their child's upcoming appointment than men. It is thought the trend could be linked to their own childhood hesitations about the dentist.
While the level of fear varies from child to child, you can help to set the foundation for stress-free appointments at home using a few simple tips.
Start Appointments Early: It is recommended your child visits the dentist before their first birthday. Not only is this important for their oral development, but it helps them build a trusted relationship with their dental team from a young age. The dental office becomes a familiar place, decreasing the fear of the unknown.
Create the Right Image: Set the example for your child regarding dental visits. If your child hears you talk about your appointments in a positive light, they are more likely to feel at ease when it comes time for their visit.
Choose the Right Dentist: The dentist you choose for your child is one of the single most important factors that influence their comfort. Choose one who is experienced with children and handling their emotional needs. A caring and compassionate dental team help your child build trust over the years, so they know they have nothing to fear.
Pain-Free Appointments: One painful appointment is enough to prevent any child from wanting to visit the dentist ever again. Choose a dentist who offers pain-free treatments when a procedure is needed, like sedation dentistry.
Give Your Child a Healthy Smile
Your child will require dental care throughout their life to keep their teeth and gums healthy. If they enjoy their time at the dentist while they are young, they are more likely to maintain their dental needs into adulthood. You can help set the foundation they need for a lifelong healthy smile by encouraging fear-free appointments as they grow.
About Northampton Pediatric Dentistry PC
Northampton Pediatric Dentistry PC provides comfortable dental care for young smiles. We strive to promote your child's oral development while also building a trusted relationship with them. We cater our treatments to your child's comfort level to help them relax during their appointments. Our experienced team takes the time to get to know your child and works at their pace to help them feel at ease. If your child is fearful of the dentist, we can help. Contact our office today to learn more.