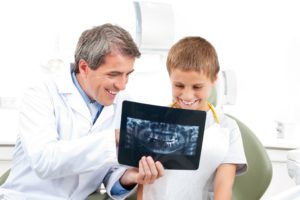 Early care from a pediatric dentist in Amherst is vital to the health and development of your child's teeth. As a result, it is best to schedule an appointment twice a year for a cleaning and checkup. This allows their oral health to be monitored to detect any areas of concern quickly to provide early intervention. During their visits, a visual examination will be performed, and x-rays are taken. Although you may feel that the imaging is not necessary until after a problem, like a cavity develops, they provide their dentist with key insight into their oral health.

Why Does My Child Need an X-Ray?
As a parent, it is natural to be concerned about your child's exposure to radiation, which is why you do not want x-rays taken unless they are absolutely necessary. Now, you can feel at ease because new advancements allow them to be safe than ever.
With digital technology, the use of radiation during an x-ray is minimal when compared to methods used in the past. You can rest assured that your child will not be subject to any unnecessary amounts of radiation while their dentist works to promote the health of their teeth and gums.
X-rays are recommended at routine appointments to allow their oral health to be monitored for issues that cannot be seen by the naked eye, like tooth decay. Although cavities are preventable, they are the most common chronic condition to affect children—even more so than asthma.
Sometimes, it is not always obvious that your child has a cavity, such as when they are in the early stages of development or when they form in between their teeth. As a result, they can go undetected until they progress in severity to the point symptoms occur or they become visible. An x-ray removes this risk.
They allow for early detection of cavities while they are still small, even in hard to detect areas like in between their teeth. The sooner they are found, the quicker they can be treated to lessen the need for an invasive procedure in the future, like a root canal or dental crown.
Not only do x-rays allow their dentist to look for cavities, but other issues that may be brewing beneath the surface, like infections or potential alignment concerns as their permanent teeth begin to erupt. With a deeper insight into their oral health, they will provide the intervention that is necessary to foster the development of a healthy smile.
Get a Clear Picture into Your Child's Oral Health
Now, x-rays are quick and painless because no film strips are needed. In a matter of a few minutes, their dentist will have highly-detailed images to monitor the health and development of your child's smile.
About Northampton Pediatric Dentistry PC
Northampton Pediatric Dentistry PC caters to young smiles to promote the health of the teeth and gums. We use safe and effective technology to monitor children's oral health through all stages of life. If you have any concerns about the use of x-rays during your child's dental appointment, do not hesitate to speak with a member of our team.