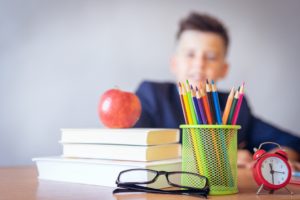 Summer vacation is nearly over, which means your child is getting ready for a new school year. While you shop for school supplies and trendy outfits, life's about to get busier as your child heads back to the classroom. Their oral hygiene routine can suffer from the chaos of getting out the door on time. Your child's dental health doesn't have to get lost in the shuffle. Here are 6 tips from your pediatric dentist to ensure your child's smile aces their next dental exam. 
1. Commit to an Oral Hygiene Routine
As you rush out the door in the morning, make sure there's enough time for your child to brush their teeth for at least two minutes. A soft-bristled toothbrush and fluoride toothpaste will ensure their smile is clean and healthy as they start their day. Don't forget to make brushing and flossing part of their bedtime routine. Although they may be exhausted after a long day at school, they should brush and floss before heading to bed to combat harmful oral bacteria.
2. Pack Healthy Lunches
A nutritious lunch will keep your child energized and focused during the school day. However, the foods you pack can also influence their dental health. Choose snacks and drinks that have low sugar content. Pack plenty of fruits and vegetables to keep their mouth and body healthy.
3. Encourage Plenty of Water
Your child must drink plenty of water to stay hydrated for their body to function properly. Their oral health also relies on hydration to reduce the growth rate of bad oral bacteria. It will also cleanse their mouth of food debris and bacteria in between brushing and flossing.
4. Schedule a Cleaning and Checkup
Juggling the school year and your responsibilities at home or work can be difficult, but don't forget to schedule a cleaning and checkup every 6 months. Preventive appointments stop common oral health issues from occurring in the first place, like tooth decay and gum disease. Routine appointments will preserve your child's natural smile while ensuring a toothache doesn't keep them out of the classroom.
5. Add the Protection of Fluoride
Besides a cleaning and checkup, ask your pediatric dentist about adding a fluoride treatment to your child's back-to-school plan. Fluoride is a natural way to strengthen enamel to make it more resistant to decay using a pain-free and noninvasive method.
6. Ask About Dental Sealants
Besides fluoride, consider adding dental sealants to your child's molars. It provides a protective barrier between their enamel and cavity-causing bacteria to reduce their risk of decay.
Your child's smile can stay healthy and beautiful throughout the school year, so they'll always look and feel their best.
About Dr. Marie Tremblay
Dr. Tremblay earned her dental degree at the University of Montreal and continued her education in pediatric dentistry. As a mother of 3, she understands the importance of compassionate dental care for young smiles. It is time for your child's next cleaning and checkup, contact our office today to schedule an appointment to get their smile ready for the classroom.