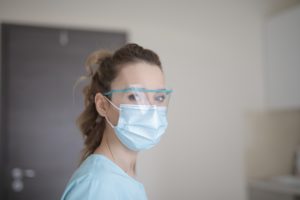 Times have changed as we work together to combat the spread of COVID-19. As we adapt to a new form of normalcy, your pediatric dentist in Northampton is reopening their doors; however, it's normal to be concerned about your child's safety. Don't worry, our office has implemented new standards to keep them healthy. As a result, things will look a bit different when you come back to the office. Here's what you can expect during your child's first visit to the office.
Before the Appointment
Communication between your family and our office is essential to keeping everyone healthy. Before entering our office, we will ask you to answer a few simple screening questions, which are provided to electronically. We'll ask you to sign a consent form.
Before your arrival to our office, we've properly cleaned and disinfected it to remove harmful pathogens. When you arrive, we ask you to please call our office from the parking lot to let us know you're ready for your child's appointment. We'll repeat the previous screening and ask you to use hand sanitizer before escorting your child back to the clinical area.
During the Appointment
We've limited the number of patients we see each day to maintain social distancing while your family is in our office. Our entire team will be wearing the appropriate personal protective equipment, including masks and gloves. As you walk through the office, you'll also notice we've removed magazines and toys. Although this might make the wait less exciting, it helps prevent spreading viruses and illnesses.
You'll notice our chairs have larger spaces between them to promote social distancing. We will perform your child's cleaning, checkup, or treatment before allowing them to choose a prize from a "menu." A member of our team will give them their selection before it's time to leave.
After the Appointment
Our new safety protocols don't end after you leave the office. Instead, our team is hard at work cleaning and disinfecting to prepare for the next patient. We'll sterilize all instruments and operatory surfaces. Our goal is to ensure our office is the safest and cleanest place you and your visit all day.
A Higher Standard for Safety
Dental offices are known for their cleanliness. We've raised the bar to ensure our office is germ-free to promote your child's safety during their visit. We've implemented new safety standards recommended by the Centers for Disease Control and Prevention and the American Dental Association to stop the spread for COVID-19. You can rest assured, your child is in good hands while they receive the care they need for a healthy smile.
About Northampton Pediatric Dentistry, PC
Northampton Pediatric Dentistry, PC is committed to delivering the safe, comprehensive care children need to develop and maintain healthy smiles. While we fight coronavirus, we've changed the way we do things to keep your child healthy. Whether it's time for their routine visit or they need immediate care, contact our office today to schedule an appointment.