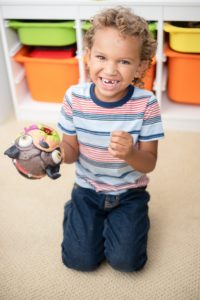 Nothing is more exciting for a child than their first wiggly tooth. With each gap in their smile, they can expect a visit from the Tooth Fairy. In American, a child places a lost tooth under their pillow, which is replaced by a monetary gift. Did you know the story of the magical being differs in other countries? Your pediatric dentist in Northampton sheds light on some of the most common myths around the globe about the Tooth Fairy.
1. Tooth Mouse
The version of the Tooth Fairy in French-speaking countries and Spain differs from America's tale. They believe a mouse retrieves a child's lost tooth at night. The mythological creature is referred to as "La Petite Souris."
2. Offering Teeth to the Sun
Egypt, Libya, and Oman take a far different approach when a child loses a tooth. A special fairy doesn't come to your home. Instead, children throw their teeth toward the sun. The tradition is performed in hopes the sun will send them a stronger tooth to replace the one they have lost.
3. Taking Teeth to New Heights
China has a very unique method of ensuring the permanent teeth come in quickly. The upper teeth are thrown on the roof while those from the lower jaw are buried in the ground.
4. Offerings to Animals
Children in Kyrgyzstan offer their lost teeth to animals. After a tooth falls out, it is wrapped in food, commonly bread. The piece of food is then fed to an animal to encourage the space to be filled by a healthy adult tooth.
5. Tooth Trolls
People in Finland have an unusual method of encouraging children to prevent cavities. Children believe a tooth troll, called Hammaspeikko, will drill holes in their teeth if they aren't brushing well or eating too much candy. Essentially, children are scared into brushing their teeth to avoid an unplanned visit from a tooth troll.
6. Tooth Slipper
South African countries also rely on a mouse to take children's teeth. Once a tooth is lost, it is placed in a slipper for a mouse to collect. The rodent replaces it with a small gift, which is why it's commonly the dental mascot in South Africa.
7. Promoting a Successful Future
Turkish parents believe they can foster their child's future by burying baby teeth in a meaningful place. For example, if you wanted them to become the president of the United States, you might bury it in the White House's Rose Garden.
Tooth Fairy stories around the world may be unfamiliar to our culture; however, our ritual may be just as bizarre to them. No matter the tradition you follow, losing baby teeth is an important milestone in your child's life and is a reason for celebration.
About Dr. Europa Yang
Dr. Yang earned her dental degree at Boston University and has completed post-graduate training in pediatric dentistry. She has traveled worldwide to provide children access to dental care while expanding her knowledge. If it's time for your child's next cleaning and checkup, contact our office today.