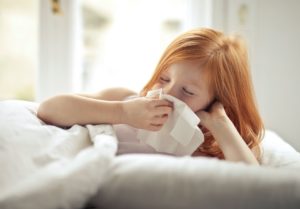 With the long days of summer replaced by cooler weather, cold and flu season is in full swing, which means runny noses and sore throats. Unfortunately, your child's health isn't the only thing at risk when battling germs and viruses. While you combat their symptoms and keep them comfortable, you can harm their smile unknowingly. Don't worry, your pediatric dentist has 4 tips to alleviate their symptoms while supporting a healthy smile.
Combating Cold and Flu Season
If it seems like your child is always sick, you're probably not imagining things. Despite wearing masks, handwashing, and sanitizing, the average child gets 6-8 colds annually. Younger children are prone to illness because they touch plenty of germy surfaces and put objects in their mouths.
At the first sign your child isn't feeling well, you head to the medicine cabinet to find a solution to target their symptoms, like nasal congestion or fever. While cough drops, syrups, and sore throat lollipops are a lifesaver when your child is ill, they often contain enamel-eroding sugars and additives. The last thing they need is a toothache on top of a cold.
Maintaining a Healthy Smile
You don't have to skip medications to safeguard their smile. Instead, make a few simple changes to keep their teeth and gums healthy while on the road to recovery.
1. Brush Their Teeth
Your child may not feel like doing much of anything, especially brushing their teeth. Even if they are ill, they still need to brush and floss. You don't have to drag them to the bathroom. All they need is a cup of water, their toothbrush, and toothpaste to keep their mouth clean from the comfort of their bed.
2. Gargle Salt Water
If your child is old enough to gargle liquids in their mouth, salt water can kill germs while easing a sore throat. Gargling once daily with a salt and water mixture will help get them back to feeling their best quickly.
3. Read Medication Labels
It's best to choose sugar-free medications, but if you can't find what they need without added sweeteners, have your child rinse their mouth with water after. It will help cleanse cavity-causing residue from their teeth.
4. Focus on Hydration
It's easier for children to suffer dehydration when they are ill, which can make their mouth dry. Not to mention, if their nose is stuffy, they will breathe through their mouth, which will dry it out even more. A dry mouth increases oral bacteria growth. Your child should drink plenty of water to keep their mouth and body hydrated.
After your child is back on their feet, don't forget to change their toothbrush, so they will continue to look and feel their best.
About Dr. Marie Tremblay
Dr. Tremblay earned her dental degree at the University of Montreal before continuing her training in Pediatric Dentistry. She is a member of the American Board of Pediatric Dentistry to provide the gentle approach young smiles require. If your child needs a cleaning and checkup, contact our office today for an appointment.