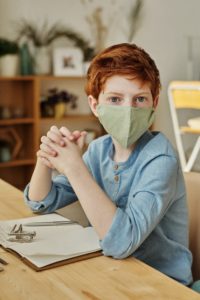 Your family has been spending more time at home to do your part to combat the spread of COVID-19. Although there's much to learn about the virus, we know social distancing is crucial for stopping the pandemic. Unfortunately, you can't stay at home forever. Your child still needs to see their pediatric dentist in Northampton. Don't worry, they can get the care they need without placing them at risk. Believe it or not, there are 5 ways your dentist is promoting social distancing in their office to keep their young patients safe.
1. Virtual Waiting Room
Virtual waiting rooms have become the norm to help keep patients away from one another. Upon arriving at your pediatric dentist, you and your child will remain in your vehicle and call the front desk to let them know you're there. They will preform a brief assessment over the phone to ensure your child isn't showing any signs of illness. When it's time for their appointment, they'll be escorted back to the clinical area.
2. Limiting Appointments
Your pediatric dentist is also seeing fewer patients each day. While it may take a little longer to get an appointment, it's necessary to limit how many people are in the office at any given time. It also gives the dental team more time to clean, so you can feel confident knowing the dentist is the cleanest place your child will visit all day.
3. Fewer People in Clinical Area
To ensure social distancing, your dentist is limiting the number of people in the clinical area. It's best to only have 1 parent/guardian and the patient in the room, so you might need to make arrangements for other children during this time.
4. Personal Protective Equipment
Many dental offices are requiring face coverings to enter the facility. You won't be alone. Your dental team will also wear personal protective equipment to help stop the spread of the virus. This provides a protective barrier between patients and the dental team when it's not possible to stay 6 feet apart.
5. Plastic Barriers
Plastic barriers have been put in place in various locations throughout the dental office to reduce spreading airborne pathogens, like at the front desk. They will be cleaned regularly to keep the office germ-free.
Social Distancing is Possible
Although we live in uncertain times, your child still needs to see their dentist at least twice a year. Dental offices are already some of the cleanest places, but your pediatric dentist has revamped their protocols to further ensure a sterile environment. You can invest in your child's dental health without placing them at risk of illnesses.
About Northampton Pediatric Dentistry, PC
Northampton Pediatric Dentistry is committed to delivering safe dental care amid the COVID-19 pandemic. We've updated our safety standards to reduce your family's risk of exposure to the virus. If you have any questions about our safety practices, or you'd like to schedule an appointment, contact our office today to speak with a member of our team.