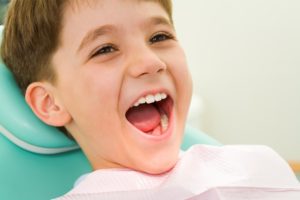 Besides brushing and flossing at home, the foundation to your child's lasting smile relies on the care they receive from their pediatric dentist in Northampton. Unfortunately, even routine appointments can be overwhelming for some children. Whether they need a simple cleaning or a filling, it can be nearly impossible to give your child the care they need if they fear the dentist. Thankfully, you can help your child relax and get the treatments their smile depends on with sedation dentistry.
What is Sedation Dentistry?
Sedation dentistry, also known as sleep dentistry, involves the use of certain medications to help your child reach a high level of relaxation. Contrary to common belief, your child is not unconscious. Instead, they relax to the point they may even fall asleep. They will not feel any pain or discomfort, allowing their dentist to perform the necessary treatments quickly without causing your child unnecessary distress.
There are essentially 4 different levels of sedation:
Minimal Sedation: A person remains awake but relaxed, like what's achieved with nitrous oxide.
Moderate Sedation: More commonly known as conscious sedation, your child is awake, but they will not remember the procedure.
Deep Sedation: This is typically needed for invasive treatments because your child will be on the verge of consciousness.
General Anesthesia: Your child is completely unconscious.
Is Sedation Dentistry Safe?
As a parent, your top consideration when choosing a treatment is its safety. Although you may have heard a few bad experiences in the media, these are very rare circumstances. Sedation dentistry is safe and effective when used on the ideal candidate and when administered by a trained professional. While sedated, their dentist will also perform safety checks to assess their blood oxygen level, heart rate, blood pressure, and temperature.
What Options are Available?
There are several forms of sedation, but the type used is determined by your child's individual needs. Your child may need:
Nitrous Oxide
This is an inhaled sedative that's better known as "laughing gas." As it's inhaled through a mask, it takes effect quickly, but it also wears off equally as fast, so your child can resume their regular activities the same day.
Local Anesthesia
A local anesthetic provides a virtually pain-free appointment. The treatment area is numbed, and your child won't feel a thing. It can take a couple of hours for the effects to wear off, so you'll need to supervise your child.
Hospital Dentistry
In some cases, it may be best for your child's treatment to take place in a hospital setting. A skilled anesthesiologist will be with your child throughout their treatment.
Help Your Child Relax Today!
If your child needs an invasive treatment or they struggle with anxiety during their dental visits, they can sit back and relax with sedation dentistry.
About Northampton Pediatric Dentistry
Northampton Pediatric Dentistry strives to provide comprehensive dental care to our young patients. We offer many specialty services, including sedation dentistry. We can cater to your child's comfort level. Contact our office today to learn more.