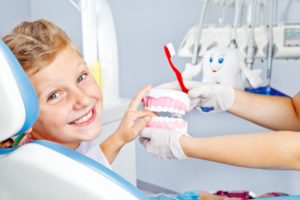 The holiday season is an exciting time of the year for children. Besides the bright lights, colorful decorations, and carefully wrapped gifts, children also look forward to looking in their stockings on Christmas morning. Although they are often loaded with sweet treats, your pediatric dentist recommends you think twice about grabbing candies and cookies. Instead, here are 5 teeth-friendly stocking stuffers your child will love.
1. Fun Electric Toothbrush
Children love getting new toothbrushes. You can give them what they want and encourage a healthy smile with a fun electric toothbrush in their stocking. There are many different types you can choose from, like those that light up or play music to tell them how long to brush. No matter the kind you choose, be sure to pick one that accommodates the size of their mouth, has soft bristles, and has earned the ADA's Seal of Acceptance.
2. Flavorful Floss
Flossing is equally important for children as it is for adults. Most flosses come in a minty or cinnamon flavor, which many children don't like. As an alternative to traditional floss, there are many unique flavors, like bacon, waffles, or bubble gum. Choose a few fun-flavored flosses to add to your child's stocking. You'll make them look forward to flossing their teeth.
3. Healthy Snacks
You don't need to skip the goodies to keep your child's teeth healthy. Instead, swap the sweet treats for fresh fruit, nuts, and other healthy snacks. They can still enjoy a tasty treat without placing their smile at risk of decay.
4. Pick Sugarless Gum
Sugarless gum can actually improve your child's dental health. Gum stimulates saliva production to keep their mouth moist. This is essential for removing harmful food particles, plaque, and bacteria from their teeth in between brushing and flossing. Not to mention, it can combat bad breath. You can let your child chew gum without worrying about cavities.
5. Sugar-Free Lollipops
You can still give your child something sweet in their stocking with sugar-free lollipops. There are many different varieties that are sure to please any child without increasing their risk of tooth decay; however, be sure they don't bite into them to avoid an unexpected dental emergency.
Choose Smile-Friendly Stocking Stuffers
No holiday season is complete without creative stocking stuffers. You can give your child a reason to smile and keep their teeth healthy by choosing items that are safe for their oral health. Invest in a healthy smile for the year ahead with simple teeth-friendly stocking stuffers.
About Northampton Pediatric Dentistry, PC
Northampton Pediatric Dentistry offers high-quality care that focuses on prevention to ensure your child has the foundation they need for lasting oral health. We offer the compassionate care young smiles need in our welcoming dental office. We work to build a personalized relationship with each patient, so they enjoy their time in our office. If it's time for your child's next cleaning or checkup, don't wait. Contact our office today to schedule an appointment.