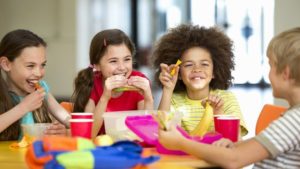 The biggest threat to your child's smile is tooth decay, despite being preventable. The Centers for Disease Control and Prevention estimates that 20% of children between the ages of 5 to 11 have at least one untreated cavity, making it more common than childhood asthma. You know brushing, flossing, and regular visits to a pediatric dentist can safeguard your child's smile; however, the foods they eat are equally important to combat cavities. Did you know candy and cookies aren't the only contributors to decay? Here are 3 surprising foods that can put your child's smile at risk of cavities.
1. Raisins
Raisins provide many nutritional benefits because they are made of dehydrated grapes. Although they are quick and easy snacks that are loaded with vitamins, minerals, and healthy fiber, they have high sugar content. In fact, they contain nearly as much sugar as candy or soda. They can also cling to the surfaces of teeth, slowly eroding your child's enamel.
2. Saltine Crackers
Saltine crackers are a great snack or the perfect addition to a bowl of soup. However, they contain processed carbohydrates and starches. They have the same effects as sugars, stimulating bacteria growth that can eat away at the enamel. Chewing crackers causes them to turn into a fine powder that can get trapped in the crevasses of the molars, making them difficult to remove.
3. Fruit Juice
Fruit juice is loaded with antioxidants, fiber, and other nutrients your child needs to stay healthy. Unfortunately, they can contain as much sugar as soda. While you might believe avoiding those with added sugars and sweeteners is safe for young smiles, even 100% fruit juices can leave your child at risk of decay.
Promoting Cavity-Free Smiles
Your child's smile doesn't have to become another victim of tooth decay. Besides the right oral hygiene habits at home and regular care from a dentist, it's best to choose healthy alternatives to cavity-causing foods, like:
Low-Fat Cheese: Cheese is a healthy snack that contains calcium, which is vital to promoting strong teeth and bones.
Fresh Fruits and Vegetables: Apple slices and carrot sticks are great snacks that contain plenty of necessary nutrients to support a healthy mouth and body.
Water: Instead of fruit juices, sports drinks, and sodas, encourage your child to drink plenty of tap water, which contains added fluoride to make their teeth more resistant to decay.
Your child's pediatric dentist can also provide additional preventive services to reduce their risk of decay, like dental sealants or fluoride treatments. With the right care at home and from a qualified dentist, your child will have the protection they need for a cavity-free smile.
About Dr. Europa Yang
Dr. Yang earned her dental degree at Boston University before continuing her training in pediatric dentistry. She is board certified by the American Board of Pediatric Dentistry and an active member of the American Academy of Pediatrics Dentistry. If you need a qualified dentist who caters to children, contact our office today to request your consultation.