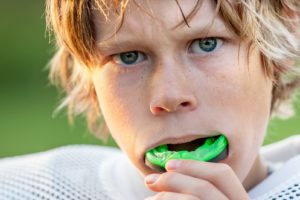 Sports are a great way for little ones and your family to stay fit and active. You know the right protective gear is important for preventing injuries, like wearing a helmet while going on a bike ride or knee pads when roller skating. However, there's another important piece of protection everyone in your home should wear when heading outdoors to play sports. A mouthguard is essential for preventing oral injuries, but which sports require one? Your pediatric dentist has the information you need to ensure no one ends up with a dental emergency. 
Invest in the Protection of a Sportsguard
Although no one expects a dental emergency to happen to someone in their home, 1 in 6 Americans requires urgent attention from a dentist annually. According to the Centers for Disease Control and Prevention, more than 600,000 people visit an emergency room each year from sports-related dental injuries. In addition, more than 5 million teeth are dislodged or knocked out of their sockets from sports. However, research has shown that 200,000 oral injuries are prevented annually thanks to athletic mouthguards.
A mouthguard provides a barrier for the teeth, gums, and oral structures to lessen the severity of an injury if there's any impact or trauma to the mouth. In some cases, research has found that a sportsguard can also lessen the risk of concussion. While you might know they are crucial when playing football or other contact sports, the American Dental Association recommends one when participating in any sporting or recreational activities that can result in dental trauma or orofacial injury. This includes any activities with the potential for collision, contact, or high-velocity sports, like mountain biking.
Whether at practice, a game, or family activity, athletic mouthguards are an effective solution to safeguard your loved ones' smiles. Although you can purchase them OTC, the American Dental Association recommends a custom-fit sportsguard from a dentist to benefit from the best protection.
Benefit from Maximum Protection
The effectiveness of an athletic mouthguard relies on the materials used to make it and how well it fits the mouth. OTC sportsguards aren't custom-fit, which can do more damage than good if there's any trauma to the mouth.
A mouthguard from a dentist is made from high-quality, durable, and comfortable material for maximum protection. The dentist creates the oral appliance from an impression of the mouth to fit like a glove. You'll have peace of mind knowing your family's smiles have the best protection possible while enjoying their favorite activities.
You wouldn't send your child onto the football field without a helmet, so don't leave their smile vulnerable. Ask their pediatric dentist about adding the benefits of a sportsguard to their preventive treatment plan.
About Dr. Marie Tremblay
Dr. Tremblay earned her dental degree at the University of Montreal and continued her education in pediatric dentistry. She is a diplomat of the American Board of Pediatric Dentistry and an active member of the American Academy of Pediatrics Dentistry. If your child needs an athletic mouthguard, contact our office today to request an appointment.