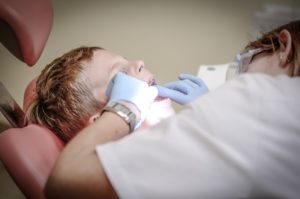 Nothing is more precious than your child's smile. Unfortunately, it is constantly under attack by cavity-causing bacteria. Brushing, flossing, and routine visits to their pediatric dentist in Northampton are crucial for keeping tooth decay at bay, but there's another step you can take to defend their smile. Dental sealants are a protective barrier applied to cavity-prone areas, like the back molars. They are proven to reduce the risk of tooth decay by as much as 80%; however, it's normal to have a few questions before you're ready to agree to the treatment. Here are the answers to a few of the most common questions patients ask to make the best decision for your child's smile.
What is a Dental Sealant?
A dental sealant is a thin coating applied to the chewing surface of the back teeth to prevent tooth decay. The clear barrier prevents food particles and bacteria from being trapped in the crevasses of the molars to preserve the enamel. The quick, painless treatment instantly safeguards their teeth, which can continue to reduce their risk of cavities by as much as 50% after 4 years of being applied.
Who Can Get Dental Sealants?
There isn't an age requirement for dental sealants. In fact, you're never too old to benefit from their protection; however, they are often recommended for children because they are the most susceptible to cavities. Your dentist will suggest applying them around the age of 6, which is when the 1st molars erupt. They may also recommend them again after the 2nd molars come in, around the age of 12.
How Long Do Dental Sealants Last?
Dental sealants will undergo a lot of pressure from chewing and grinding food, but they have shown to last for nearly a decade before needing to be replaced. Your pediatric dentist will check your child's sealants at each appointment. If one is damaged or falls off, they can easily replace it to help prevent decay.
How Much Do Dental Sealants Cost?
There isn't a set fee for dental sealants because there are several factors influencing the cost, such as the number of teeth being treated. Although every policy differs, most insurance plans offer 100% coverage for preventive services, including dental sealants when used for pediatric cases. Your dentist will help you use your policy to help offset the cost, so finances don't stand in your child's way of maximum protection.
How Can My Child Get Dental Sealants?
Ask their dentist about adding the protection of dental sealants to your child's treatment plan during their next routine visit. With the right care at home and the help of their dentist, you can nurture a healthy smile that lasts.
About Northampton Pediatric Dentistry, PC
Northampton Pediatric Dentistry includes a team of general dentists who specialize in young smiles. They have undergone advanced training in pediatric dentistry to encourage the health, function, and development of the teeth and gums through a focus on prevention. If it's time for your child's next cleaning and checkup, contact our office today to schedule an appointment.