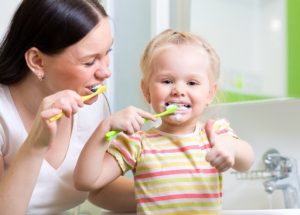 As a parent, nothing is more important to you than the health and well-being of your child. While you encourage a healthy diet and plenty of exercise, you may be overlooking a vital aspect of their health—their smile. Your child's dental health directly influences their general health and their development. To protect their teeth and gums from damage, the first line of defense starts with their toothbrush, but which is the best one to use? To help you choose the right one, your pediatric dentist in Northampton has some important tips to keep in mind.

Manual Toothbrushes
Manual toothbrushes are proven effective when used correctly. Not to mention, they are affordable and come in an array of sizes, shapes, and colors. This can make it fun for your child to pick the perfect one; however, when browsing the oral health aisle, there are key things to look for when choosing a toothbrush.
Look for the ADA Seal of Approval: Choose a toothbrush that has earned the American Dental Association's (ADA) Seal of Approval. This means that is has been tested for safety and effectiveness when used correctly.
Choose the Right Size: If a toothbrush is too large, it will not clean the teeth correctly. Choose one that accommodates the size of your child's mouth.
Soft-Bristles: It is always recommended that you use soft-bristles, especially children who have a habit of pushing too hard. This will help to prevent enamel and gum erosion.
Electric Toothbrushes
Electric toothbrushes are often recommended for children. They have a habit of rushing through brushing or do not clean their teeth long enough. As a result, this allows harmful bacteria and plaque to accumulate, which can lead to cavities. An electric toothbrush can help to pick up the slack because they offer more strokes per minute when compared to a manual one.
When choosing one, keep in mind the ADA's Seal of Approval, the size of your child's mouth, and ensure that it has soft-bristles. In addition, there are a few other key features that you may want to consider:
Pressure Sensor: This will help to alert your child when they are pushing too hard to prevent causing damage to the teeth and gums.
Timer: Many come with timers to encourage your child to brush for the full 2 minutes.
Smart Brush: Now, you can connect your child's toothbrush to your cell phone or tablet. This will allow you to monitor your child's brushing habits.
Promote a Healthy Smile
With the right oral hygiene habits at home, you will help to encourage a healthy, beautiful smile for your child. Take the time to choose the right dental products to give them the foundation they need for healthy teeth and gums.
About Northampton Pediatric Dentistry PC
Northampton Pediatric Dentistry PC is committed to fostering the health and development of young smiles. We offer complete preventive services to protect their teeth and gums from damage. If your child needs a cleaning and checkup, contact our office today to schedule an appointment.