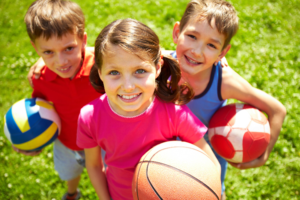 You work hard to protect your child's smile. You make sure that they brush and floss their teeth while also taking them to see their pediatric dentist in Northampton twice a year. Despite your best efforts, you may be overlooking a crucial aspect to protecting their teeth and gums from damage—an athletic mouthguard. With the summer months here, your child will be participating in several activities that may put them at risk for a knocked out, dislodged, or broken tooth.

Dental Emergencies in Children
Although no one expects it to happen to them, it is estimated that one in six Americans will face a dental emergency this year. Children are no exception. One of the leading causes for dental emergencies in children involves trauma to the face or mouth. The severity of the injuries they sustain could easily be avoided if an athletic mouthguard is used.
It is estimated that 5 million teeth are knocked out or injured every year. 39% of these injuries are the result of a sports-related activity. Roughly half of them occur in children and teens. The occurrence is so high that sports injuries to the mouth and face account for 3 times as many as those that are due to violence or traffic accidents.
An easy way to prevent them is with a mouthguard. In fact, it is estimated that 80% of traumatic dental injuries can be reduced if a mouthguard is used. This accounts to preventing roughly 200,000 oral injuries per year.
Protect Your Child's Smile
An athletic mouthguard is a simple and cost-effective solution to protect your child's smile. It is a custom-fit oral appliance that provides an added layer of protect should they fall or suffer an impact to their face or mouth. Not only does it protect their teeth, but their jaw, lips, tongue, and face as well. In addition, new research suggests that they may also reduce the risk for a concussion.
When choosing an athletic mouthguard for your child this summer, there are several things to keep in mind.
Choose one that is resilient and tear-resistant
Ensure that it fits comfortably and properly
Pick one that is easy to clean
Make sure that it does not restrict breathing or speech
You can purchase over-the-counter mouthguards at your local store; however, they often do not fit correctly, and they will not offer the highest level of protection. Instead, it is best to visit your pediatric dentist to have one custom-made.
Get an Athletic Mouthguard Today
Do not let an unexpected dental emergency ruin your summer plans. Protect your child's smile from damage with a mouthguard.
About Northampton Pediatric Dentistry P.C.
Northampton Pediatric Dentistry P.C. is committed to fostering the health and development of young smiles. In addition to general dentistry, we also provided added services to protect their teeth and gums from damage, including athletic mouthguards. If your child will be participating in activities this summer, give them the protection they need. Contact our office today to schedule an appointment.