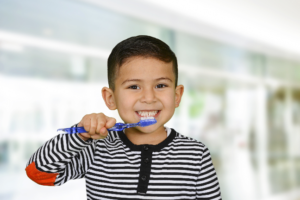 Your child's teeth serve an important role. Although the baby teeth eventually fall out, they allow them to learn how to speak and chew properly. Not to mention, they also act as placeholders for the adult teeth. To protect them while they are in place, your child must learn the correct way to care for their smile at home. With an early understanding of the importance of dental health through oral hygiene habits and regular are from their pediatric dentist in Northampton, you will help to set the foundation for a lifelong commitment to their smile.

Promote Lifelong Healthy Smile
As a parent, your child's commitment to their teeth and gums starts at home. You will set the example to ensure that they take the time each day to brush and floss; however, getting them to make the most of their oral hygiene routine can be a challenge. To make the task a bit easier, there are some helpful tips to get you started.
Make a Schedule: Before their first baby tooth erupts, begin incorporating oral hygiene into your child's daily routine. Take the time to wipe their gums with a soft cloth twice per day. After they have a tooth erupt, introduce brushing their teeth.
Don't Forget to Floss: As your child grows, the spaces between their baby teeth will start to close. Now, it is time to add daily flossing into their routine. Often, children find dental flossers easier to use when cleaning in between their teeth.
Visit the Dentist: Before your child's first birthday, they should have their first cleaning and checkup. Although the dentist may not do more than perform a visual examination, it gets your child accustom to visiting the dentist to make appointments stress-free in the future.
Make It Fun: Too often, children view brushing and flossing as a chore, but if you make it fun, they will enjoy doing it. Let them pick out their own toothbrush and floss. To ensure that they brush for 2 minutes, play their favorite song while they care for their teeth.
Care for Permanent Teeth: Around the age of 6, they will begin to lose their baby teeth. Now is the time to stress the importance of oral hygiene even more. Make it a daily commitment to brush and floss while ensuring that they visit their dentist twice a year.
Foster Your Child's Smile
The sooner you begin incorporating oral hygiene habits into your child's daily routine, the better. Help create a solid foundation for their dental health today with proper brushing and flossing habits.
About Northampton Pediatric Dentistry PC
Northampton Pediatric Dentistry PC is committed to providing young patients with the services they need for healthy, beautiful smiles. With a focus on prevention, we provide the cleanings and checkups your child needs. We will take the time to educate them about their oral hygiene habits to fosters a healthy smile. If your child needs a cleaning and checkup, contact our office today to schedule an appointment.