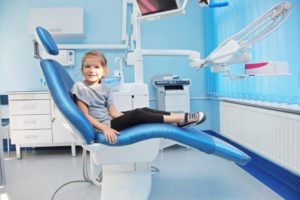 February is National Children's Dental Health Month, which is dedicated to bringing thousands of dental professionals together to educate the public about the importance of good oral health for children. Now in its 63rd year, dentists from around the world come together to help young smiles thrive with healthy teeth and gums. Your pediatric dentist in Northampton provides the individualized solutions your child needs to create the foundation for a lifelong healthy smile.
Oral Hygiene for Children
Although the baby teeth are only in place for a few short years, they serve an important role. Not only do they allow your child to learn how to chew and speak, but they also act as placeholders for their permanent teeth. To ensure they stay strong and healthy, your child needs to practice proper oral hygiene habits at home and regular care from their dentist.
It's Never Too Early
Often, it is thought your child does not need an oral hygiene routine until after a few baby teeth erupt, but this is untrue. It is never too early to introduce oral hygiene. Even before the first baby tooth erupts, use a soft cloth to clean your infant's gums. This not only removes harmful bacteria, but it also gets your child in the habit of caring for their smile.
After your child's first baby teeth emerge, introduce a soft-bristled toothbrush that accommodates the size of their mouth. Use a fluoride toothpaste to gently clean their teeth twice a day. As your child becomes older, they can begin brushing their own teeth under your supervision.
Flossing is not necessary when they are a baby unless something gets caught in their teeth. Around the age of 6, your child's teeth will move closer together. Now is the time to introduce a high-quality dental floss. Clean in between each tooth before going to bed to remove anything that has been left behind by their toothbrush.
Regular Dental Care
Your child should see their dentist before their first birthday. Although they may only have a few teeth, it builds the foundation they need to enjoy going to the dentist. A regular cleaning and checkup teach your child the importance of routine dental care while also building a trusted relationship with their dentist for stress-free visits.
The dentist monitors their oral health over the years to ensure they develop a healthy, beautiful smile that lasts.
Invest in a Healthy Smile
You can give your child the beautiful smile they deserve by incorporating oral hygiene into their daily routine from a young age. Your dentist creates individualized solutions to help them maintain healthy teeth and gums over the years.
About Northampton Pediatric Dentistry, PC
Northampton Pediatric Dentistry, PC is committed to fostering the health of the young smiles in our community. We focus on prevention to ensure your child maintains healthy teeth and gums through all stages of oral development. If it is time for their next cleaning and checkup, contact our office today for an appointment.