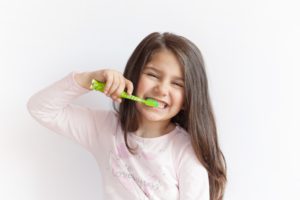 One of the most important skills your child learns in life is how to care for their teeth and gums. Unfortunately, you may face an uphill battle. Often, young children view brushing and flossing as a chore, so they rush through it or skip it all together. You can help to make it fun while allowing them to develop the techniques they need using simple tips from your pediatric dentist in Northampton.

Developing Brushing Techniques
Even before their first tooth erupts, it is best to get your child into the habit of oral hygiene. Use a soft cloth or wet gauze to clean their gums and tongue. As they get their baby teeth, incorporate a toothbrush.
Use a soft-bristled toothbrush designed for infants to brush their first teeth twice a day. It is best to avoid any toothpastes until after their 1st
After the age of two, use a fluoride toothpaste and a soft-bristled toothbrush to clean all surfaces of your child's teeth. It is best to do it in front of a mirror so they can watch what you are doing.
Around the age of 6, your child can start brushing their teeth on their own; however, you should inspect their teeth when they are done to look for areas they may be missing. To make the task easier, an electric toothbrush can be used.
Encourage your child to brush their teeth twice a day by holding their toothbrush at a 45-degree angle. Show them the proper movements to use and how to clean hard to reach places, like the back molars.
Explain to them the importance of using the right amount of toothpaste and spitting it out instead of swallowing it.
Getting in the Habit of Flossing
As the spaces between your child's teeth close, it is time to introduce flossing. Use a short length of high-quality dental floss to clean between each tooth. As your child develops their motor functions, they can floss on their own.
Teach them to hold the floss between their thumb and forefinger to insert it between two teeth.
Form a "C" shape around a tooth and slide it down to the gum line and back up to the crown.
Use a new section of floss for each tooth to avoid placing plaque and bacteria back onto the teeth.
It is not uncommon for young children to struggle with flossing. To make it easier, they can use a flosser or interdental brush.
Invest in Your Child's Smile
With the right oral hygiene habits from a young age, you give your child the foundation they need to remain committed to their dental health throughout their life. Give them the gift of a healthy smile with proper brushing and flossing.
About Northampton Pediatric Dentistry PC
Northampton Pediatric Dentistry PC provides complete dental services for our young patients. With a focus on prevention, we work to ensure the health and development of their teeth. If you have questions about your child's oral hygiene routine, contact our office today.