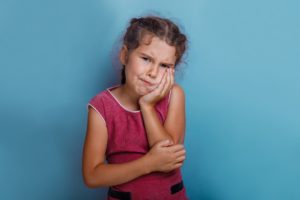 As a parent, nothing is worse than seeing your child in pain. Over the years, you expect to see bumps, bruises, and maybe even a broken bone; however, you may not be prepared for a dental-related emergency. Although you never think you will face this situation, it is estimated 50% of children will have some type of dental emergency during childhood. Whether due to an accident, an injury, or another cause, you must know how to react and when to call their pediatric dentist in Northampton.

What Do I Do During a Dental Emergency?
Dental emergencies can take many forms, such as a severe toothache or a dislodged tooth. No matter the issue at hand, time is of the utmost importance to save their tooth. It is best to react accordingly at home and then call their dentist right away.
Knocked-Out Tooth
If your child has a baby tooth knocked out, there is no need to try to preserve it, but you should still contact their dentist. When it is an adult tooth, hold it by the crown and rinse it with water. Do not scrub it, dry it, or use any cleaners. Keep it moist by placing it in a cup of milk or water.
Dislodged Tooth
A tooth can be moved out of its socket but not completely out of the mouth. If you can, gently try to push it back into position and have your child bite on a piece of gauze.
Cracked or Chipped Tooth
Immediately have your child rinse their mouth with warm salt water and apply cold compresses to the outside of their face.
A Toothache
This can be a sign of an untreated cavity or an infection. It is best to contact their dentist right away. In the meantime, use over-the-counter pain relievers to manage their discomfort.
Tongue or Lip Bleeding
Your child will bite their lip or tongue at some point. In most cases, it is not an emergency unless you cannot control the bleeding using gentle pressure. To manage any swelling that may occur, apply a cold compress.
Broken Jaw
If you suspect that your child has broken their jaw, apply a cold compress and head to your local emergency room.
Object in Teeth
Gently try to remove it with floss. If it is ineffective, do not try to take it out with a sharp or metal instrument. Instead, call their dentist.
Can Dental Emergencies Be Avoided?
Although there is no 100% means to prevent dental injuries, there are several things you can do to help reduce the likeliness of one, such as:
Promote proper oral hygiene habits at home.
Take them to their dentist twice a year.
Use an athletic mouthguard when participating in sports.
Protect Your Child's Smile
If you are ever in doubt about an issue that your child is having with their teeth or gums, do not wait. Contact their dentist for advice to help you through the situation.
About Northampton Pediatric Dentistry PC
Northampton Pediatric Dentistry PC is committed to fostering the health and development of young smiles. We provide the compassionate care children need to feel at ease while at the dentist. We believe in always being there for our patients, even during times of emergency. If you need a pediatric emergency dentist, contact our office today!