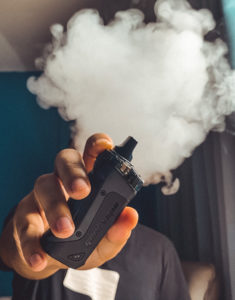 Adolescents and teens are surrounded by peer pressure, which can lead to some bad decisions, like vaping. According to the Centers for Disease Control and Prevention, over 2 million U.S. middle and high school students use e-cigarettes regularly. Just like every other doctor, your pediatric dentist in Northampton also warns against the dangers of vaping. No matter the frequency of use, type of device, flavor, or brand, vaping can come back to haunt your child's smile. 
Vaping and Oral Health Risks
Many teens believe vaping is safer than traditional cigarettes, making them a popular option for adolescents. As the trend continues to spike, it's important to have regular discussions with your child about the dental risks associated with vaping, which can include:
Gum Disease
Cavities aren't the only cause of tooth loss. Gum disease is equally devastating. Although it's often believed to only affect adults, children and teens can develop the infection, too. Since e-cigarettes contain nicotine, vaping reduces blood flow to the gum tissue, which can hide signs of gum disease. With nicotine being linked to a poor immune response, the infection can wreak havoc in your teen's mouth without even showing any symptoms. 
Dry Mouth
Saliva is important to keep the mouth moist to inhibit bacterial growth. It cleanses the teeth between brushing and flossing to lessen the risk of tooth decay and gum disease. However, nicotine causes dry mouth. Without the right balance of saliva to combat bacteria, your teen's risk of both gum disease and cavities increases significantly.
Oral Cancer
Vaping doesn't eliminate or lessen the risk of oral cancer. Current studies have found that there are more cancer-causing chemicals in e-cigarettes than originally thought. Inhaling the chemicals into the lungs can have a carcinogenic effect, raising your child's risk of oral cancer.
Break the Addiction for a Healthy Smile
If your teen has a habit of vaping, it's important to ask questions and find ways to support them while they break the addiction. You can encourage success by following a few tips:
Ask questions to help your teeth identify why they are vaping, such as from stress or peer pressure.
Create a plan to overcome the habit, including a set day to quit.
Have patience and don't scold your teen if they give in to their cravings.
Help them remove any temptations.
Find additional resources and information for more help.
Although it's not always easy to talk to your teen about the dangers of risky behaviors, sit down to have a discussion about vaping. You can support your teen and their dental health by keeping the line of communication open.
About Dr. Marie Tremblay
Dr. Tremblay earned her dental degree from the University of Montreal and continued her education to focus on pediatric dentistry. She is a diplomat of the American Board of Pediatric Dentistry and the American Academy of Pediatric Dentistry. If you're concerned about the effects vaping is having on your child's smile, contact our office today to request an appointment.