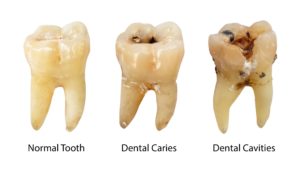 Although the primary teeth are only in place for a few short years, they are invaluable to your child's oral health and development. The biggest threat to their baby teeth is tooth decay. Despite being preventable, the Centers for Disease Control and Prevention estimates 20% of children between the ages of 5 to 11 and 13% adolescents between 12 to 19 years of age have at least one untreated cavity. To help keep your child's teeth strong and healthy, it's vital to learn what causes tooth decay in the first place. With the right oral hygiene habits at home and regular care from their pediatric dentist in Greenfield, you can save their smile from cavities.
What Causes Tooth Decay?
A cavity doesn't form overnight. Instead, it's a gradual process that often results from poor oral hygiene habits or techniques. Throughout the day, a sticky biofilm called plaque accumulates on the teeth. Bacteria found naturally in the mouth thrive on plaque. When your child consumes sugary foods and drinks, it causes the bacteria to turn to an acid when it combines with their saliva.
As it sits on their teeth, it slowly eats away at the hard outer layer of their tooth called the enamel. Eventually, a small hole develops. During this early stage of decay, the cavity can be treated easily with a filling. Unfortunately, if your child doesn't visit their dentist regularly, it can cause the cavity to go undetected and untreated.
Over time, the decay will extend to the softer layer of the tooth underneath the enamel called the dentin. The bacteria will continue to destroy their tooth until it reaches the inner layer, known as the pulp. This is the nerve center of the tooth. If it becomes infected by the bacteria, it causes significant pain. Now, your child is at risk of losing their tooth if it isn't treated quickly with a root canal.
How Can I Prevent Cavities?
Although tooth decay is common, there are several things you can do to keep your child's smile cavity-free:
Teach your child to brush their teeth twice a day using a fluoride toothpaste and soft-bristled toothbrush.
Show your child how to clean all surfaces of their teeth for at least 2 minutes every time they brush.
Encourage your child to floss their teeth daily.
Limit their diet of sugary foods and drinks.
Take them to their dentist twice a year for a cleaning and checkup.
Give your child the protection of dental sealants.
Enjoy a Cavity-Free Smile
You can help to keep your child's smile free from tooth decay by remaining proactive about their oral hygiene habits at home. Do not forget to schedule a semi-annual appointment for a cleaning and checkup to nurture a healthy smile.
About Northampton Pediatric Dentistry PC
Northampton Pediatric Dentistry PC is committed to providing compassionate dental care young children need for lasting oral health. We focus on prevention to keep their teeth and gums healthy. If it is time for your child's next visit, contact our office today to schedule an appointment.