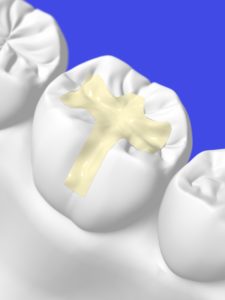 Your child's primary teeth are important for more than just a beautiful smile. Although they are only in place for a few short years before they fall out, they are essential to your child's oral health and development. Any issues with the baby teeth can cause lasting complications for their adult ones. The biggest threat to your child's baby and adult teeth is tooth decay. Although it's preventable, it is the most prevalent oral health condition for children in America. If your child has a cavity, their pediatric dentist in Greenfield can restore a healthy smile using a simple dental filling.
What is a Filling?
A filling is one of the most common restorative treatments used to save a compromised tooth. It can restore the function and shape of a tooth that has been damaged by a cavity. After the decay is removed and the tooth is cleaned, the area is filled with a special material to seal it from bacteria. This helps prevent more decay while also strengthening its structure.
Traditionally, amalgam fillings are used because they are cost-effective and durable. They are made from a mixture of metals, including mercury. Although the American Dental Association supports its use, it is natural to be concerned about mercury exposure. Not to mention, they are very noticeable.
As an alternative, you can choose metal-free fillings for your child. Tooth-colored fillings are made from a composite resin material that's biocompatible. It can also be customized to match their enamel to blend in with their smile.
Does My Child Need a Filling?
Every day, your child's teeth are bombarded by harmful sugars that slowly erode their enamel if they don't maintain their oral hygiene. Unfortunately, even if your child brushes and flosses their teeth daily, they probably don't have the best techniques. As a result, they have an increased risk of tooth decay because cavity-causing bacteria left behind on their teeth. In fact, the Centers for Disease Control and Prevention estimates 20% of children under the age of 11 and 13% of adolescents have at least one untreated cavity.
Although the early stages of decay may only cause tooth sensitivity, it should still be treated right away. If it isn't, it will extend further into the tooth. Eventually, it could reach the inner layer called the pulp. Now, a filling is no longer enough to save it. Instead, your child will need a more invasive treatment, called a root canal.
It's best to treat a cavity while it's still small. A filling is a simple, minimally invasive solution to prevent the damage from worsening while restoring the integrity of the tooth.
Treat Cavities Today!
If your child has a cavity, don't wait until it's too late. Save their tooth with a dental filling today!
About Northampton Pediatric Dentists PC
Northampton Pediatric Dentistry PC is committed to helping the young smiles in the community stay healthy and beautiful. We provide the solutions your child needs to develop and maintain optimal oral health. If they have a cavity, we can treat it with a tooth-colored filling. Contact our office today to schedule an appointment.