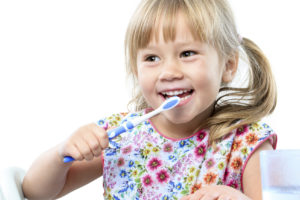 Your child's oral hygiene habits set the foundation for their lifelong commitment to their dental health as they age. To help foster that development, you encourage healthy habits at home and want to ensure that they are using the right products. However, when it comes to oral hygiene for kids, you must first decide which type of toothbrush they will use—a manual or an electric? Although they are often believed to be unsafe for children, they are effective for both children and adults.

Is an Electric Toothbrush Better?
Manual and electric toothbrushes are equally as effective for removing plaque accumulations when they are used correctly. Unfortunately, most children do not have the best brushing habits or methods. As a result, an electric one may be a better option. In addition to cleaning the teeth more effectively, there are several benefits to make oral hygiene easier for your child.
Why is an Electric Toothbrush Better?
Often, children prefer electric toothbrushes because they can be easier to use. In addition to a smaller brush head, their design better accommodates small hands. Overall, this makes it easier for them to clean their teeth, even hard to reach places.
With children often lacking appropriate brushing methods, an electric one will do a better job because it provides more strokes per minute when compared to a traditional one. This can help to make up for poor brushing techniques.
It is not uncommon for children to believe that brushing harder will clean their teeth better; however, this can cause damage to their enamel and gum tissue. To teach your child the correct pressure to apply, many electric toothbrushes also come with built in sensors to alert them when they are pushing too hard.
Brushing can also be fun when they use an electric toothbrush. Now, many come with flashing lights or music to help teach them the correct length of time to brush while also making it a fun and positive experience.
Choosing the Right Toothbrush
Whether you choose an electric or manual, it is important to look for one that has the American Dental Association's Seal of Acceptance, which means it has been tested for safety and effectiveness. In addition, look for one with soft-bristles that accommodates the size of your child's mouth.
Promote a Healthy Smile
In addition to your child's home oral hygiene habits, they also need regular cleanings and checkups with their dentist. With the right care at home and with their pediatric dentist, you will help to ensure that they develop and maintain a healthy smile.
About Northampton Pediatric Dentistry PC
Northampton Pediatric Dentistry PC caters to young smiles. We strive to meet the unique needs of children to provide comprehensive care in a comfortable and compassionate environment. We will help promote the importance of oral hygiene will monitoring the development of their teeth and gums. If it is time for your child's next preventive appointment, contact us today to schedule a visit.