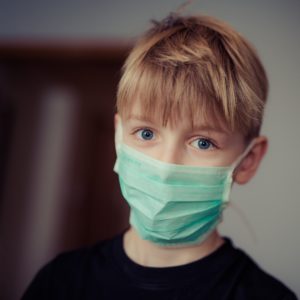 As the country combats the COVID-19 pandemic, many dental offices have had to close their doors. As a result, it has likely been a few months since the last time your child saw their pediatric dentist in Greenfield. With coronavirus cases declining, many dentists can see their young patients again, but there will be a few changes, like no-contact greetings. This can be difficult for children to understand. Fortunately, there are a few creative ways your child can greet their dental team while still avoiding contact.
Fun Greetings During COVID-19
If your child has been visiting the same dentist for many years, their dental team might feel like family. They may run up to hug their hygienist without any second thought. Generally, their dental team would be thrilled to give them a hug or a high-five; however, they want to keep your child safe and healthy. As a result, they will be keeping their distance. That doesn't mean your child can't greet their dental team. Here are 4 no-touch ways your child can say, "hello:"
Elbow Bumps: Elbow bumps are quickly becoming the new fist bump. It's a fun alternative to a high-five or a hug and helps prevent spreading germs.
Ankle Shake: If your child tends to shake people's hands, it can be a hard habit to break. Switching to an ankle shake is an easy way for your child to say, "hi" without the risk of cross-contamination.
Air High-Five: An air high-five is a clever way for your child to greet their dental team that doesn't require any contact at all. In fact, they can even do it from 6 feet away to also practice social distancing.
Bow or Curtsey: In the past, it was common for people to greet one another with a bow or curtsy. Your child can bring back an old tradition through a no-contact greeting.
We live in uncertain times. If you're uncomfortable with your child visiting the dental office, your dentist understands your apprehensions. Many dental offices are offering tele-dentistry options, such as for a follow-up visit. Your child won't even need to come into the office, so you don't need to worry about potentially exposing them to harmful germs.
Invest in Your Child's Smile
It's normal to be concerned about your child's health amid the COVID-19 crisis, but there's no reason to worry. Dental offices are already some of the cleanest places; however, your child's pediatric dentist has updated their safety protocols to keep their patients and the community safe. If you have any concerns about their safety standards, don't hesitate to contact the office to speak with a member of the team.
About Northampton Pediatric Dentistry
Northampton Pediatric Dentistry caters to the young smiles in the community through personalized care. Your family's safety is our top priority, which is why we've updated our dental safety standards to reduce the risk of cross-contamination. If you have any questions about the changes we've implemented, please contact our office today.