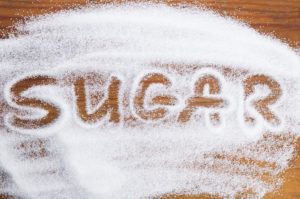 As a parent, nothing is more important than your child's health. To ensure they develop properly, you encourage a healthy diet that is limited in sugars. You know that it is bad for their general health, but did you know that it is equally as damaging for their teeth? In honor of National Nutrition Month, you can help to foster a healthy mouth and body by promoting your kid's nutrition.

Sugar Isn't Just Bad for the Body
Sugary foods and drinks are everywhere you turn. While some are obvious, like sodas and ice cream, sometimes it is not always apparent. Often, products are believed to be healthy, like fruit juices; however, they can contain just as much sugar as a can of soda. In fact, researchers have found that sugary drinks make up about 80% of beverages for children. As a result, you must be proactive about the products your child consumes.
When your child has too much sugar, you know that is can negatively impact their general health. In fact, it increases their risk for hyperactivity, obesity, and type 2 diabetes; however, it can also lead to another common chronic condition—tooth decay.
Consuming too many sugary snacks will significantly increase your child's risk for developing a cavity. With tooth decay the most chronic condition affecting children in the United States, it can lead to an array of oral health issues, especially if pain or infection develop.
Often, tooth decay goes undetected and untreated for far too long. In fact, the Centers for Disease Control and Prevention estimates that 20% of children between the ages of 5 to 11 and 13% of adolescents between 12 and 19 years of age have at least one untreated cavity. If the issue is not resolved quickly, pain and infection can develop. Once this occurs, it can lead to complications with speaking, chewing, learning, and playing.
According to a study from North Carolina, children with poor dental health are three times as likely to miss school due to dental pain, often the result of a cavity. With 1 in 7 children between the ages of 6 to 12 suffering a toothache in the past 6 months, it is vital that you encourage a healthy diet at home to prevent tooth decay.
Promote a Sugar-Free Smile
It can be hard to avoid sugary foods and drinks; however, if your whole family makes the effort to limit their consumption of the products, you will set the perfect example for your child to encourage a healthy mouth and body.
By decreasing your family's sugar consumption, you will help to ward off preventable health conditions, like type 2 diabetes, while also fostering the development of your kid's oral health.
Get a Healthy Smile Today
To ensure that no cavity goes untreated, be sure to schedule a cleaning and checkup for your child every 6 months with their family dentist.
About Northampton Pediatric Dentistry PC
Northampton Pediatric Dentistry PC is committed to creating healthy, beautiful smiles for our young patients. We create personalized treatment plans to encourage the proper development and health of their teeth. If your child needs a cleaning and checkup, please contact our office today to schedule an appointment.