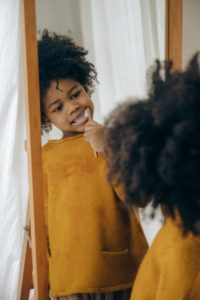 Your child's toothbrush is their first line of defense against common oral health issues, like tooth decay. To safeguard their smile from cavity-causing bacteria, you want to ensure they have the best dental products at home; however, there are many options. One of the toughest decisions is determining the right age to introduce an electric toothbrush. Your pediatric dentist in Northampton discusses 3 signs your child is ready to ditch their manual brush.
Introducing an Electric Toothbrush
Children can use an electric toothbrush around the age of 2, but every child is unique. Many don't start using one until they are between 6 to 8 years old. Here's how to tell if it's the right time to change their toothbrush.
1. Aren't Frightened by an Electric Toothbrush
It's not unusual for a child to be frightened of electric toothbrushes because they make a buzzing noise. Not to mention, they may not like the vibrations or sensation of the spinning bristles. Younger children also tend to have a strong gag reflex, which can be sensitive when introducing a new toothbrush. If you're considering making the switch, ensure your child is comfortable with the change.
2. Set the Example
Children love mimicking their parents. If they see you doing or using something, they are going to want to try it too. Using an electric toothbrush can encourage them to be excited about it. You'll also teach them the importance of caring for their smile to set the right foundation for a lifelong commitment to their dental health.
3. Pay Attention to Your Child's Breathing
Believe it or not, your child's breathing can help determine if an electric brush will be right for them. Children who are mouth breathers are often less tolerant of brushing their teeth because it can make it difficult to breathe. They may gag more often or brush at a slower pace, so an electric toothbrush may not be the best option.
Choosing the Best Toothbrushes for Kids
There are many toothbrushes on the market, but not all will be right for your child. Look for one that has earned the American Dental Association's Seal of Acceptance, which means it has been voluntarily tested for safety and effectiveness. Always choose one that has soft bristles and accommodates the size of your child's mouth. You can also look for models that have certain features, like a pressure sensor or timer to ensure they are cleaning their teeth correctly.
Switching to an electric toothbrush should be a fun, positive experience. If you have any questions or concerns about choosing the ideal dental products for your child, don't hesitate to contact their pediatric dentist.
About Dr. Marie Tremblay
Dr. Tremblay earned her dental degree at the University of Montreal and completed continuing education in pediatric dentistry. She is a Diplomat of the American Board of Pediatric Dentistry and a member of the American Academy of Pediatric Dentistry. If it's time for your child's next preventive visit, contact our office today.