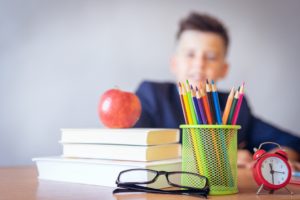 Believe it or not, it's already time for your children to head back to the classroom. You want to ensure they have everything they need to succeed, but that involves more than just purchasing school supplies. Besides pens and pencils, a healthy smile is equally important. The American Academy of Pediatric Dentistry reports 50% of children will have at least 1 cavity before the age of 5. Often, this can lead to an unplanned trip to your pediatric dentist in Northampton. According to the Office of the Surgeon General, more than 51 million school hours are lost annually from dental issues, like toothaches. Here are 4 tips to keep your child in the classroom and out of the dental chair.
1. Schedule a cleaning and checkup.
In addition to their home oral hygiene habits, your child should have a cleaning and checkup at least every 6 months. Regular visits are necessary for removing plaque and tartar that can lead to gum disease and tooth decay. They also allow their dentist to detect untreated issues, like cavities, to ensure your child doesn't have any unresolved dental problems lingering in their mouth.
2. Create a back-to-school routine.
Your daily routines can go out the window during summer vacation, but now it's time to get your family back on a schedule. As your child starts their day, their morning routine should include time to brush their teeth for at least 2 minutes. At the end of the day, they need to brush and floss before climbing into bed for the night.
3. Pack healthy snacks.
Your child's diet also influences their dental health. Choose foods and drinks that are low in sugars and starches when packing their lunch in the morning. Although chips and cookies might be your child's favorites, they create cavity-causing plaque that can erode their enamel. You can promote a healthy smile and keep their body nourished by choosing fresh fruits and vegetables, low-fat dairy products, and water.
4. Get an athletic mouthguard.
1 in 6 Americans has a dental emergency annually. Unfortunately, this includes many children who experience sports-related injuries. If your child plays sports, they need an athletic mouthguard before heading onto the field. Their children's dentist can safeguard their smile by creating a custom-fit mouthguard that's made of durable, comfortable material.
Promote Academic Success
You can ensure your child has the healthy smile they need to succeed during the school year ahead by committing to their dental health. If it's time for their next cleaning and checkup, schedule a back-to-school visit with their dentist.
About Dr. Europa Yang
Dr. Yang earned her dental degree at Boston University before continuing her education in pediatric dentistry. As a member of the American Academy of Pediatric Dentistry, you can feel confident your child's smile is in good hands. She strives to deliver the highest quality pediatric care in the community. Contact our office today to schedule your child's semi-annual cleaning and checkup.