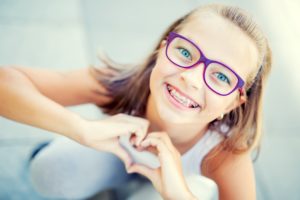 Did you know February is National Children's Dental Health Month? Every year, dental professionals throughout the country strive to raise awareness about the importance of dental care for children. Besides cleaning and checkups, their home oral hygiene routine is invaluable to supporting the health and development of young smiles. As you discuss the importance of brushing and flossing, celebrate the month with your child by shopping for new dental products. Here are 4 of the best oral hygiene products designed for little smiles.
1. Make Brushing Fun with Brushies
Your child's toothbrush is their first line of defense against preventable dental issues, like tooth day. Although there are many toothbrushes on the market, not all will be right for your child. Many children rush through their brushing routine, leaving cavity-causing plaque on their teeth. You can encourage your child to slow down and enjoy their time brushing with Brushies. The small finger puppets are designed for children 4 weeks to 4 years old. They are a fun solution to get them into the habit of brushing twice per day.
As their baby teeth erupt through their gums, it is time to introduce a soft-bristled toothbrush and fluoride toothpaste. Choose one that has earned the American Dental Association's Seal of Acceptance. There are many colorful and fun options for your child to find the perfect toothbrush, but make sure it accommodates the size of their mouth.
2. Encourage Nightly Flossing with GumChucks for Kids
Flossing is vital for a healthy smile, but traditional dental floss can be difficult for young children to maneuver between their teeth. GumChucks Kids makes flossing less of a chore. The tiny nunchucks are easier to hold than regular floss while teaching children the right motions and methods to effectively clean between their teeth.
3. Keep Their Mouth Clean with Waterpik Flossers
As an alternative to dental floss, Waterpik Water Flosser for Kids is a simple, easy solution for cleaning hard-to-reach areas in their mouth. A stream of water removes food particles and plaque to keep their teeth and gums healthy. Your child can even decorate their new dental product with stickers.
4. Minty Fresh Breath with Zellie's
Zellie's has gums, mints, and candies containing xylitol, providing a sweet treat that won't harm your child's smile. The non-GMO products are also free of soy, dairy, gluten, and aspartame to improve their oral and general health.
Support a Healthy Smile
Besides caring for your child's smile at home, they should also have a cleaning and checkup twice a year. Their children's dentist will monitor their developing smile while keeping their mouth clean and healthy.
About Dr. Marie Tremblay
Dr. Tremblay earned her dental degree at the University of Montreal. She continued her training in Pediatric Dentistry, allowing her to become a member of the American Academy of Pediatric Dentistry. She is passionate about the health and development of children's smiles. If it's time for your child's next cleaning and checkup, contact our office today to schedule an appointment.